Nitrous oxide is a safe and effective sedative agent that is mixed with oxygen and inhaled through a small mask that fits over your nose to help you relax.
Nitrous oxide, sometimes called "laughing gas," is one option your dentist may offer to help make you more comfortable during certain procedures. It is not intended to put you to sleep.
You will be able to hear and respond to any requests or directions the dentist may have. Your dentist will ask you to breathe normally through your nose, and within a few short minutes you should start to feel the effects of the nitrous oxide.
You may feel light-headed or a tingling in your arms and legs. Some people say their arms and legs feel heavy. Ultimately, you should feel calm and comfortable.
The effects of nitrous oxide wear off soon after the mask is removed.
Talk to Dr. Bana  about whether nitrous oxide would be a good option for you.
If one or more of your teeth are missing, there are a number of ways to replace them. An alternative to bridges, partials or complete dentures may be dental implants. Implants are used to replace missing roots and support artificial replacement teeth. They are comfortable and look like natural teeth.
What are dental implants?
A dental implant is an artificial root made of titanium metal. It is inserted into the jawbone to replace the root of the natural tooth. An artificial replacement tooth is attached to the implant. The implant acts as an anchor to hold the replacement tooth in place.
Who does this procedure?
If you are having an implant, your dentist may refer you to a dental specialist who has further training in this area. Specialists who place implants are periodontists or oral and maxillofacial surgeons, also called oral surgeons.
How dental implants are done
Your dentist or specialist will carefully examine your mouth and take x-rays of your head, jaw and teeth to find out if dental implants are right for you.
During the first stage of surgery, your dentist or specialist will put a dental implant into your jawbone beneath the gum tissue. The gum tissue is then stitched back into place. As the tissue heals, the implant will bond with the bone and attach to the gum. It can take several months to heal.
During the second stage of surgery and once the tissue is healed, your dentist or specialist will attach an abutment to the implant. An abutment is a post that connects the replacement tooth to the implant. In some cases, the first and second stage of implant surgery may be done in one single stage.
An artificial replacement tooth is made and your dentist or specialist attaches it to the abutment. It may take several appointments to properly fit the replacement tooth to the abutment.
When replacing several teeth or all of your teeth, a fixed bridge is anchored to your dental implants. A bridge is a dental restoration that replaces one or more missing teeth by spanning an area that has no teeth. The bridge is held firmly in place by dental implants on each side of the missing tooth or teeth.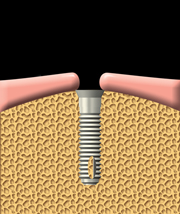 A dental implant is inserted into the jawbone.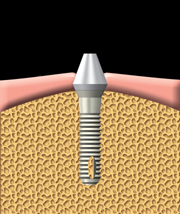 An abutment is attached to the implant.
The abutment connects the artificial tooth to the implant.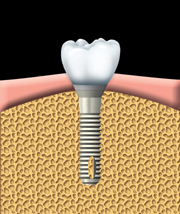 An artificial tooth is attached to the abutment.
Properly fitting the artificial tooth may take several appointments.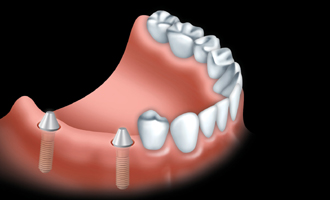 A fixed bridge is anchored to dental implants to replace one or more teeth.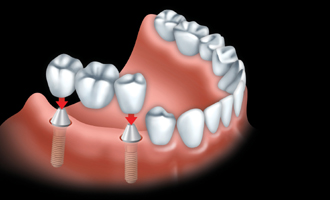 A fixed bridge is anchored to dental implants to replace all teeth.
Caring for my dental implant(s)
Because dental implants are placed in the jawbone, artificial replacement teeth attached to implants look and act much like natural teeth. Like natural teeth, implants need to be kept clean using a toothbrush and floss. Your dentist will show you the proper cleaning procedure for implants. Regular dental checkups are important so your dentist can make sure that your bite is right and that your implants are not loose.
What else should I know?
Several visits to your dentist or dental specialist may be needed until the process is done.
Checkups will be scheduled during the following year so your dentist can be sure your implants are working properly.
You will need to take very good care of your implants.
Implants can cost more than other kinds of replacement teeth and might not be covered by your dental plan. But in most cases this is a one-time cost, unlike other kinds of tooth replacement procedures.
Although rare, possible complications due to dental implants include bleeding, infection, numbness or injury to nearby muscles or the sinus cavity. In some cases, the implant may not be successful because it didn't bond to the bone.
If you would like more information on replacement of missing teeth please call our office for a no charge consultation with Dr. Appleton.
When is a dental crown or cap needed?
There are a variety of situations that require a tooth to be restored with a dental crown.
The following are the most common:
Large filling: When a tooth has a cavity or fracture that involves half the width of the tooth or more, it needs to be covered with a crown. This is because the remaining tooth around the large filling is so weak that it is prone to fracture. Sometimes a large filling that has been in the mouth for a while will need to be replaced with a crown because the tooth shows signs of stress and cracks around the filling.
Root canal: Root canal treatment leaves the tooth hollowed out and predisposes the remaining tooth to cracking. So, a tooth that has had a root canal almost always needs to be restored with a crown immediately to prevent it from fracturing.
Cracked tooth syndrome: This is a condition whereby a patient has fractures inside a tooth that cause pain when it is chewed on a certain way. Chewing produces stress on fracture lines that make it feel like it is splitting apart. A crown will hold the tooth together and redistribute the stress evenly throughout the tooth, eliminating the pain in most instances. In these situations, it is best to leave a temporary crown on for a while to make sure the pain goes away and the tooth doesn't require a root canal.
Broken cusps: Cusps frequently break off of teeth due to  trauma or large existing fillings. Since the cusps are the part of the tooth that take the most stress during chewing, they need to be completely covered or the tooth or filling will keep fracturing. Sometimes the tooth breaks all the way to the bone, and a crown-lengthening procedure is necessary. This means the bone and gums need to be trimmed down below the edge of the fractured part of the tooth so the margin of the crown can be placed on healthy, strong tooth structure.
Excessive wear of teeth: If a person has a habit of grinding their teeth, the teeth will become shorter over time. The teeth can also wear away due to acid erosion caused by gastrointestinal acid reflux (GERD), bulimia, or an acidic diet. Sometimes, the enamel will wear away completely, leaving small, soft teeth. Over time, the bite can collapse and the only way of restoring the teeth to normal size is by covering the teeth with crowns.
Undesirable appearance of teeth: Teeth that have an unacceptable appearance due to color, shape, or spaces between teeth can be made to look very natural and beautiful with crowns.
Other: Crowns are placed on dental implants to restore spaces left from missing teeth. Another way of filling these spaces is with dental bridge, which are made from crowns on the teeth next to the spaces attached to fake teeth in the middle. If teeth are loose, crowns can be placed on multiple teeth and splinted together to provide more stability.
What is the procedure for getting a dental crown?
The dental crown procedure first involves numbing the tooth with local anesthesia. If the tooth has been fractured or had a root canal treatment, it will first need to have a buildup — a filling that restores enough of the tooth for the crown to hold onto. Then the tooth is shaved down to make room for the crown, and an impression is made of the prepared tooth with a putty-like substance or a digital scanner. The dentist will then determine the shade of the patient's teeth using a shade guide or take pictures of the teeth to help the lab technician make crowns that will match the rest of the patient's teeth. A temporary crown is made from a resin or acrylic material using a molding of the original tooth. This temporary crown is cemented with temporary cement so that it can come off easily once the permanent crown is ready.
Usually a few weeks after a temporary crown, the patient returns for a second visit. During this visit, the tooth may or may not need to be numbed again and the temporary crown is removed. The permanent crown is placed on the tooth and inspected for acceptable fit, bite, and smooth margins. After any necessary adjustments have been performed, the crown is cemented with a permanent cement or dental glue.
Please call Dr. Appleton at 905-668-6301 if you would like more information about dental crowns.
(Information provided by medicinenet.com)
What is Invisalign treatment?

Invisalign treatment is the process of wearing a series of clear, removable aligners that gradually straighten your teeth. No brackets and wires, and none of the restrictions that come with metal braces.

What are Invisalign clear aligners made of and what do they look like?

Invisalign clear aligners are made of flexible plastic — specifically, a patented thermoplastic material called 

SmartTrack®

 created exclusively for Invisalign treatment.

Invisalign clear aligners are FDA-approved and contain no BPA, BPS, latex, or gluten. They are thin, clear, and fit snugly over your teeth, making them virtually invisible.

How will Invisalign treatment straighten my teeth?

Your doctor will create a unique, digital treatment plan that maps out the exact movements of your teeth. Your Invisalign clear aligners are then designed to apply the right amount of force to the right place at the right time based on your plan. Your doctor will be with you every step of the way to monitor your progress and ensure your aligners fit correctly.

What are the primary benefits of Invisalign treatment?

Invisalign clear aligners are virtually invisible — people may not even notice you're wearing them. You can remove them to eat and drink, to brush and floss, or for special occasions. There are no metal brackets or wires that could irritate your mouth or break, sending you to your doctor for an emergency visit.

Unlike other brands, Invisalign clear aligners are made from patented SmartTrack material, which is more comfortable and provides a better fit.1 Invisalign aligners are also trimmed based on your gum line for comfort and appearance. As the most advanced clear aligner system in the world, we have successfully improved over 5 million smiles, including 1 million teen smiles.

Am I guaranteed to have straight teeth with Invisalign treatment?

Every smile is unique, which is why your Invisalign treatment starts with a consultation. During your consultation, your doctor will help you determine what Invisalign treatment can do for your smile. We cannot guarantee a particular treatment outcome, but encourage you to share your treatment goals with your doctor at your consultation.
Call Dr. Appleton at  905-668-6301 for your free Invisalign consultation.
Information and video provided by Invisalign.